SAFE & CONVENIENT TOTAL KNEE REPLACEMENT IN WEST TEXAS
Our robotic total knee replacement program is the first and only in West Texas. No other ambulatory surgery center (ASC) in the area performs outpatient knee replacement using the state-of-the-art Stryker Mako® surgical robot. CHPSC surgeons were among the first to adopt the Stryker Mako® because of its ability to deliver superior outcomes for patients.
WHY TOTAL JOINT SURGERY AT
COVENANT HIGH PLAINS SURGERY CENTER
High quality same day surgery
Friendly and compassionate care
Only board certified surgeons meeting high standards for demonstrated proficiency.
Lower cost by avoiding a hospital stay
Accreditation Association for Ambulatory Health Care certified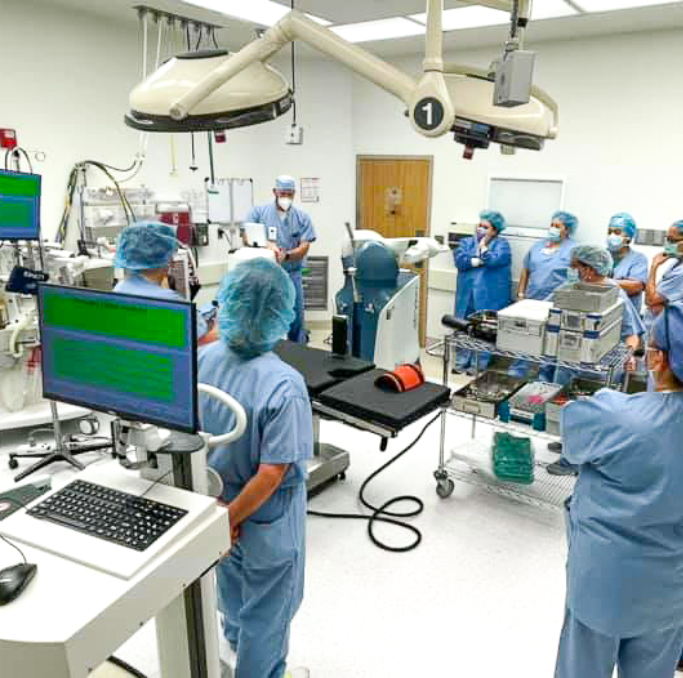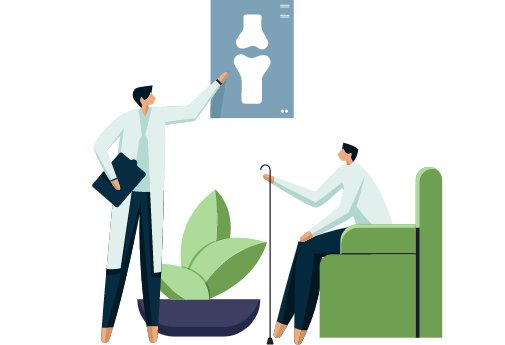 TOTAL KNEE ARTHROPLASTY
(TOTAL KNEE REPLACEMENT)
Total knee replacement surgery is the replacement of a patient's damaged knee joint with an implanted prothesis made of metal alloys and advanced polymers. Total knee replacements in the United States are expected to increase 189% by 20311, yet studies have shown that approximately 20% of patients are dissatisfied after conventional surgery2. That's where we come in.
ROBOTIC TOTAL KNEE REPLACEMENT
Robotic total joint replacement surgery began in the early 1990s. It combined computer-assisted navigation and the use of a robotic device to assist in planning and placing the implant with greater precision3.
The latest-generation Stryker Mako SmartRobotics® platform combines Stryker's advanced robotic technology with its clinically successful Triathlon Total Knee System, which enables surgeons to have a more predictable surgical experience with increased precision and accuracy4,5.
STRYKER MAKO SMARTROBOTICS® PLATFORM
Mako SmartRobotics™ consists of three unique components – 3D CT-based planning, AccuStop™ haptic technology, and insightful data analytics. In clinical studies, Mako Total Knee demonstrated the potential for patients to experience less pain, less need for opiate analgesics, less need for in-center physical therapy, reduction in length of stay, and improved knee flexion and soft tissue protection in comparison to manual techniques.
The surgeon controls the Mako® robotic arm, while the system uses a CT scan to create a model of the patient's anatomy. Computer navigation continuously monitor and updates any changes in the patient. The result is a procedure tailored to the patient's anatomy. This helps ensure optimum outcomes.
WHAT TO EXPECT WITH
ROBOTIC TOTAL KNEE REPLACEMENT
Patients go home—on average—about six hours after surgery. Patients are carefully selected to ensure that they can safely be discharged in under 23 hours. Recovery at home can be beneficial to these patients. We often see a quicker healing process and reduced the risk of infection during home recovery.
COMPASSIONATE AND PRACTICAL CARE
As an ASC, we focus on quality, convenience, and affordability. Most patients go home within a few hours. None stay longer than 23 hours. Our staff is committed to providing the best care and the best experience. Over the years we have excelled at both.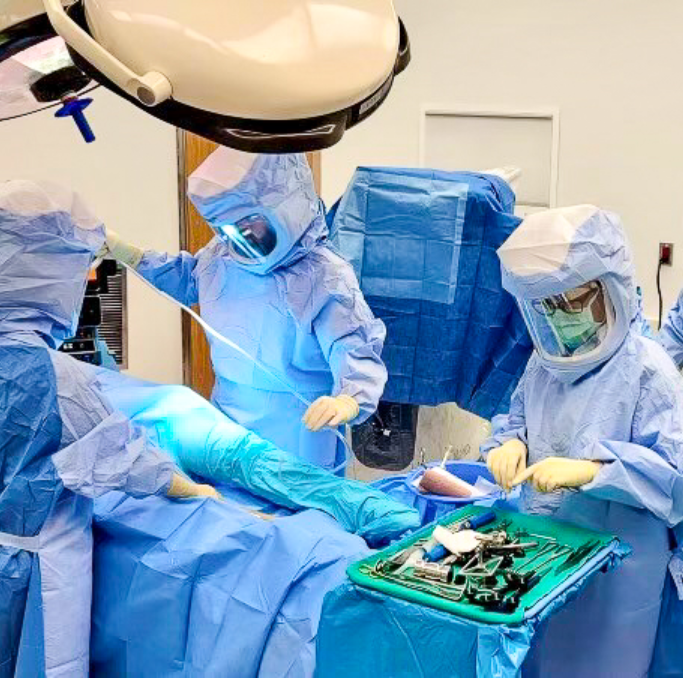 REFERENCES:
AAOS. Projected volume of primary and revision total joint replacement in the U.S. 2030 to 2060. http://aaos-annualmeeting-presskit.org/2018/research-news/sloan_tjr/. Accessed May 9, 2018.
Bourne RB, Chesworth BM, Davis AM, Mahomed NN, Charron KDJ. Patient satisfaction after total knee arthroplasty: who is satisfied and who is not? Clin Orthop Relat Res. 468(1):57-63. doi:10.1007/s11999-009-1119-9.
Mahoney O, Kinsey T, Mont M, Hozack W, Orozco F, Chen A. Can computer generated 3D bone models improve the accuracy of total knee component placement compared to manual instrumentation? A prospective multi-center evaluation. Poster presented at: 32nd Annual Congress of the International Society for Technology in Arthroplasty (ISTA); October 2-5, 2019; Toronto, Canada.
Kayani B, Konan S, Tahmassebi J, Pietrzak JRT, Haddad FS. Robotic–arm assisted total knee arthroplasty is associated with improved early functional recovery and reduced time to hospital discharge compared with conventional jig-based total knee arthroplasty: A prospective cohort study. Bone Joint J. 2018;100-B(7):930-937. doi:10.1302/0301-620X.100B7.BJJ-2017-1449.R1
Kayani B, Konan S, Pietrzak JRT, Haddad FS. Iatrogenic bone and soft tissue trauma in robotic-arm assisted total knee arthroplasty compared with conventional jig-based total knee arthroplasty: a prospective cohort study and validation of a new classification system. J Arthroplasty. 2018;33(8):2496-2501. doi:10.1016/j.arth.2018.03.042